VR! My first experience was playing the tech demos on the Occulus DK1, and since then I've been following Valves progress on their technology powering the HTC Vive. There are even some particularly good presentations from GDC. I've been thinking about picking up a head unit when the next iteration of headsets come out (which seem to be a thing, but had the opportunity to borrow a friends Vive for a week and give it a go.
In 2015, Australia passed a new piece of legislation entitled the Telecommunications (Interception and Access) Amendment (Data Retention) Act 2015 . Following the introduction of this act, service providers have obligations to retain various data associated with services provided to customers. Despite having taken effect in October 2015, I still see a lot of confusion in the service provider and broader community about exactly what customer data should be and is retained by providers.
Over the last year or so I've been looking quite a bit at Elasticsearch for use as a general purpose time series database for operational data. Whilst there are definitely a lot of options in this space, most notably InfluxDB, I keep coming back to Elasticsearch when we're talking about large volumes of data where you're doing a lot of analytical workload. More than a few times, I've been asked to explain what Elasticsearch looks like to the would-be developer/operations person.
… Oh, hello there. Hello? Hi. Is this thing on? Well, uhh.. welcome back. It's been a smidge over two years since I last posted on here, so I figure I should pop in an update - things have been busy but at the same time not really. Along with the new content I've given the site a fresh lick of paint, I'm not going to spend ages getting it where I want because, frankly - the longer I spend on it, the less I'll be happy with it.
Having been writing apps (poorly) with AngularJS for a while now, I was pretty excited to realise that combining this with Phonegap/Cordova - I could start writing portable mobile apps! For the uninitiated, Cordova is an open source mobile app development platform. Basically, it bundles your app for your device and runs an embedded (lightweight) webserver and runs your app in a fullscreen browser control. Nifty. Phonegap is the Adobe commercial version, and they kindly donated the core of it to the Apache FSF (thanks Adobe!
After a suggestion by someone, I got it in my mind that a certain group could really do with a NNTP (Usenet) caching proxy. NNTP Proxies and Caches do already exist, but none of them support cache hierachies - that is, trying to resolve articles from peer caches before talking upstream. The use case here is WACAN, a wireless network where each participant may want to offer their article cache for use by members on the network.
I had to split up my posts to avoid my hiatus post from being an unreadable mess. This post is a bit of a recap of some projects I've worked on or am working on. There are another two posts following this one covering some larger posts. Startup weekend mentoring I haven't participated in another Startup Weekend in Perth since my first one. I don't think I ever wrote it up in its full glory either, needless to say it was pretty intense and despite not having the experience I was after, I learnt a bunch and would recommend it to anyone who is interested in that kind of thing.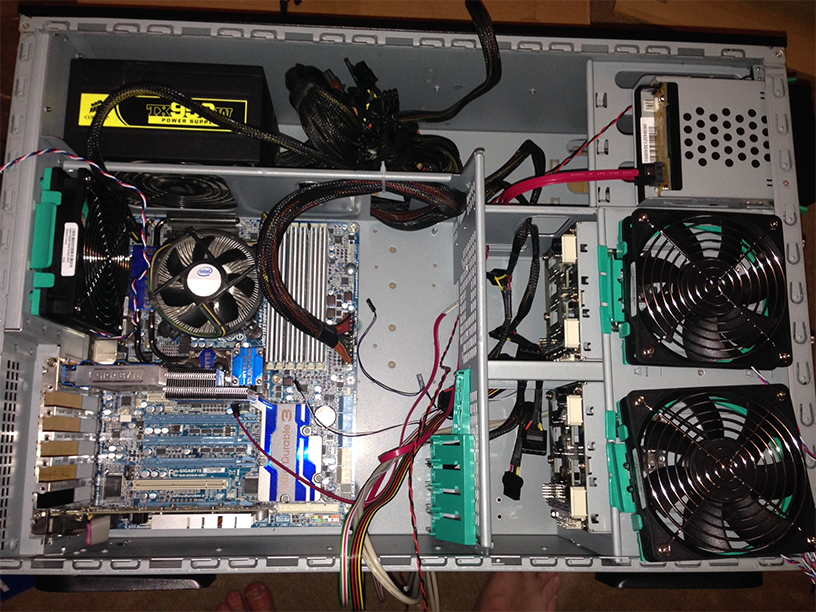 Hooray! I've finally updated my home file server. This is the first non-drive change made to the system since I built it back in 2010. The original build allowed up to 20x SATA drives sitting on top of LSI 2068E cards and a motherboard with three 8x PCIe slots on an Intel X58 chipset. This design was to allow for enough bandwidth back to the CPU for full controller-speed (SATA II) for all 20 drives in the chassis.
I mentioned in a recent post that I've been working with a cool piece of technology called AngularJS recently. It's been a long, long time since I've done any regular web work - but since picking up Angular, I can honestly say that building web applications has never been more enjoyable. As a developer, I found the documentation reasonably sucky - it has a quick tutorial and jumps straight into API documentation.
I got dragged into another philosophical argument the other day regarding white space in code. It's one of those quintessential tech discussions that does nothing more than rile people up over something that, for the most part, doesn't achieve anything of value. Generally speaking, I try and stay out of these discussions - however given I was trolling the person in this situation, I feel entitled to claim at least some small victory - someone has to.